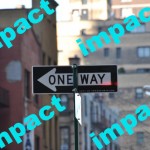 It has been said that 90% of information transmitted to the brain is visual. Images are processed 60,000 times faster than text.
Consumers in the e-commerce market as well as those who purchase resources from the blogging sphere have shown us by their own sharing and purchasing habits that content with the right kind of image converts far more than text only.
Images and relevant photography in your content not only increases user engagement but across all social platforms, imagery increases social shares and traffic.
Knowing how to choose the right images for your content should be part of your overall content strategy.
You should be able to answer the question, "Why am I using this image?" and, "What do I hope to achieve from it?"
There are two things you should aim for when selecting images to enhance your content marketing efforts. You want your images to Humanize the message and the brand and you want the images to be actionable.
Humanizing Your Message and Your Brand with Images
Images that characterize you or the people you work with tend to produce trust and a sense of inclusion for site visitors. The more people get to know you through your content channels, the more you are perceived as an authority.
I know of one entrepreneur who talks in to his phone while walking down the street, just to share an idea with his audience. He then posts his 3 or 4 minute clip to his Youtube and other Social Channels. The video isn't Spielberg, but its genuine, it's human, and we humans love it.
You can personalize your brand and you can personal your products in a number of ways.
Personalize the Goal of your Content
If the goal of your content is to move people to buy your hair piece, put them in the picture.
Which image below captures the greater part of your attention? What kinds of emotions or promises are being delivered? Is it your beauty, your elegance, your style?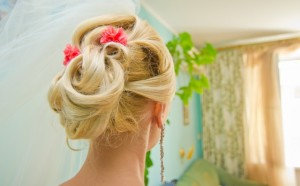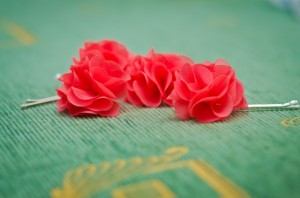 The image without personalization produces fewer of these responses because you (the person) cannot be found in the image.
You can't humanize very image, but the strategy should always be there as an option. Especially if you re running a blog or trying to sell personal services. See the Embedly Profile image below for another examples of personalizing your content.
Use Images that Inspire Action from your Readers
Every photo or image you share as part of your content marketing strategy is a chance for someone to react, and every reaction could lead to a site visit, and eventually a conversion.
Ideally, you want people who view the image to have more than just an emotion. Why make them cry when you want them to buy?
There is a rule thumb, particularly in the restaurant industry in which I used to work. The closer you can get the diner to the product, the more likely they are to buy it. Here is one way to achieve that with images.
Bring them in a little closer.
Say you run a restaurant. Which Image is more likely to move your visitor to take action and buy these strawberry pancakes.
Use sentimental images sparingly and look for ways to incorporate a call to action. The image might show some success story, some victory, some problem solved.
It might enhance a desire (like your appetite) and as a result move them to take the action your content is asking them to take.
Info graphics are great at doing this, but your photo's can too.
Trying to sell an umbrella? Try an image of someone standing in the pouring rain in a busy street getting soaking wet.
Tip: One mistake many bloggers make is to place too many non-essential images in to their website design and articles.
Two or three images that call a visitor to action are better than one image that does nothing. And one image which creates an unmistakable and motivating call to action is better than two or three.
A Couple Image Tools I Use
In addition to SmartPhotoStock, I use a some additional additional tools to help my clients create better use of visual in their content marketing.
Canva
I like Canva for its simplicity. It's quick, it's clean, their are plenty of quality images and it can produce a promotional image or infographic that looks professional. You can upload your images straight in to Canva and add them in to whatever content you are creating.
Embedly
Embedly is a great free tool for sharing – and making shareable – your content. If your goal is to increase traffic, sharing or click through rates, Embedly can be very helpful. I use it with my own infographics because it provides a slick design and a visually appealing result.
It allows users to quickly share an image back at their own site or social media platform while preserving a credited link back to yours.
You can grab profiles that inspire action…
You can embed them anywhere – or have your visitors embed them – and retain the Kudos!
There are a few of the best free WordPress plugins allowing you to find and embed images easily!
3. Concept Feedback
I like this tool. Register with Concept Feedback and add your images and designs for free. Give other designers feedback and get valuable feedback on your own images and designs. You get to state your goals and the purpose of your image or design, allowing others to critique it.
A great way to quickly assess whether your images are sending out the message you want to convey. You can find Concept Feedback.
What are some of the image tactics you have used to increase the impact of your content.
What tools have you found bring you greater success when incorporating images in to your contact.
One of the great things about images is that their is so much scope for development. Every niche will want to generate a different kind of call to action. Images not only make it possible, but also more probable.
---